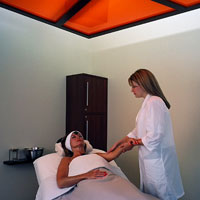 Massage therapy restores balance and well-being. The healing nature of touch relieves tension stored in the muscles, reduces stiffness and pain in the joints and helps eliminate toxins. Choose a specific type of massage or consult with one of our therapists about blending techniques specifically for your pleasure and benefit. Prices subject to change.
---
Traditional Swedish Massage
Swedish massage techniques are used to increase circulation, relieve muscle soreness and induce a state of total relaxation. Actual massage techniques and strokes can be altered to suit your specific needs after a consultation with one of our licensed therapists.
Thirty Minutes • $50
Sixty Minutes • $90
Ninety Minutes • $120


Deep Tissue/Sports Massage
An intense massage designed to work out knots and spasms within the muscles and connective tissue. The amount of pressure applied will vary given each client's personal preferences. A great massage choice for the physically active person and those who enjoy a more vigorous massage.
Thirty Minutes • $60
Sixty Minutes • $100
Ninety Minutes • $130
Pregnancy Massage
Our most popular massage for 'mommies-to-be'. Available only to those in their second and third trimesters.
Sixty Minutes • $90
Aromatherapy Massage
Choose from our selection of essential and fragrance oils including: cinnamon, french lavender, peppermint, orange and lemon.
Sixty Minutes • $95
Elizabeth Jacob Zen Hot Stone Massage
Smooth, palm sized basalt rocks are heated then lubricated with essential oils. The therapist holds a stone in each hand while massaging your body. The heat from the stones helps penetrate deeper into your muscle tissue inducing deep relaxation without over heating.
Sixty Minutes • $100
Ninety Minutes • $125
Couples Massage
Rejuvenation in tandem with 60 minutes of bodily bliss. Enjoy our professional massage with your favorite person. After your service, relax in our lounge with a beverage of your choice.
Sixty Minutes • $190
Reflexology Foot Massage
The perfect remedy for tired feet and legs! Reflexology is the ancient Chinese art and science of applying pressure to ìreflexî points in the feet. Each reflex point corresponds to an organ in the body. While the treatment is wonderfully relaxing for the feet and legs it also helps to clear energy imbalance and detoxify the system. Focusing entirely on the feet, this treatment soothes away stress throughout the body.
Thirty Minutes • $70
Add a complimentary dry sauna treatment to any massage. The dry heat of the sauna helps to detoxify the lymphatic system and allows for a deeper sense of relaxation during the massage session.