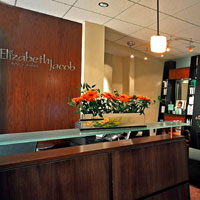 Welcome to Elizabeth Jacob Spa and Salon.
Our licensed, well-trained staff is dedicated to providing you with the highest level of service. We are constantly striving to exceed your needs while promoting your best interests.
Our goal is to provide a spa and salon with a truly nurturing, rejuvenating setting supported by unpretentious service. You are our guest and we want you to feel comfortable, special and pampered. We will always think, act, and react professionally without delay. At Elizabeth Jacob, customer service is more than a promise – it's a part of our culture.