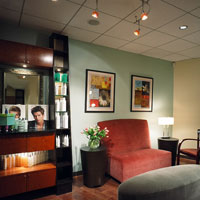 Elizabeth Jacob Spa & Salon provides our guests with a haven from the bustle and stress of daily life. To support this environment, please review some spa etiquette points listed below. If you have other questions, which are not answered here, please do not hesitate to ask any member of our staff.
• Gift Cards: For a special occasion, a gift or for any reason at all, Elizabeth Jacob Spa & Salon gift cards are available for purchase by phone or at the reception desk. This can be made for a specific service(s) or a dollar amount and they do not expire.
• Scheduling: Please plan to arrive fifteen minutes prior to a scheduled spa appointment. This allows you time to fill out any forms, change into a robe, relax and enjoy our facility. Punctuality ensures that your services can start on time and be performed properly. We reserve the right to cancel an appointment if you are more than fifteen minutes late.
• Cancellations: Because our technicians have reserved time especially for you, please provide at least 24 hours notice of cancellation for any spa or salon service in order to avoid being charged for the services.
• Cell Phones: In order to achieve the relaxing atmosphere we are striving to provide, all phones must be turned off upon entering our spa area.
• Satisfaction Guaranteed: All of our services and products are geared for your enjoyment. If you are ever less than pleased or we fail to meet your expectations, let us know at once so that we may correct the problem. We welcome all of your suggestions and rely on them to help us improve our services and your enjoyment of the Elizabeth Jacob Spa & Salon experience.